Welcome to Westlite Bukit Minyak
No. 38 Jalan Perniagaan Seri Tambun,
Taman Westlite Dormitory Bukit Tambun,
14100 Simpang Ampat, Penang, Malaysia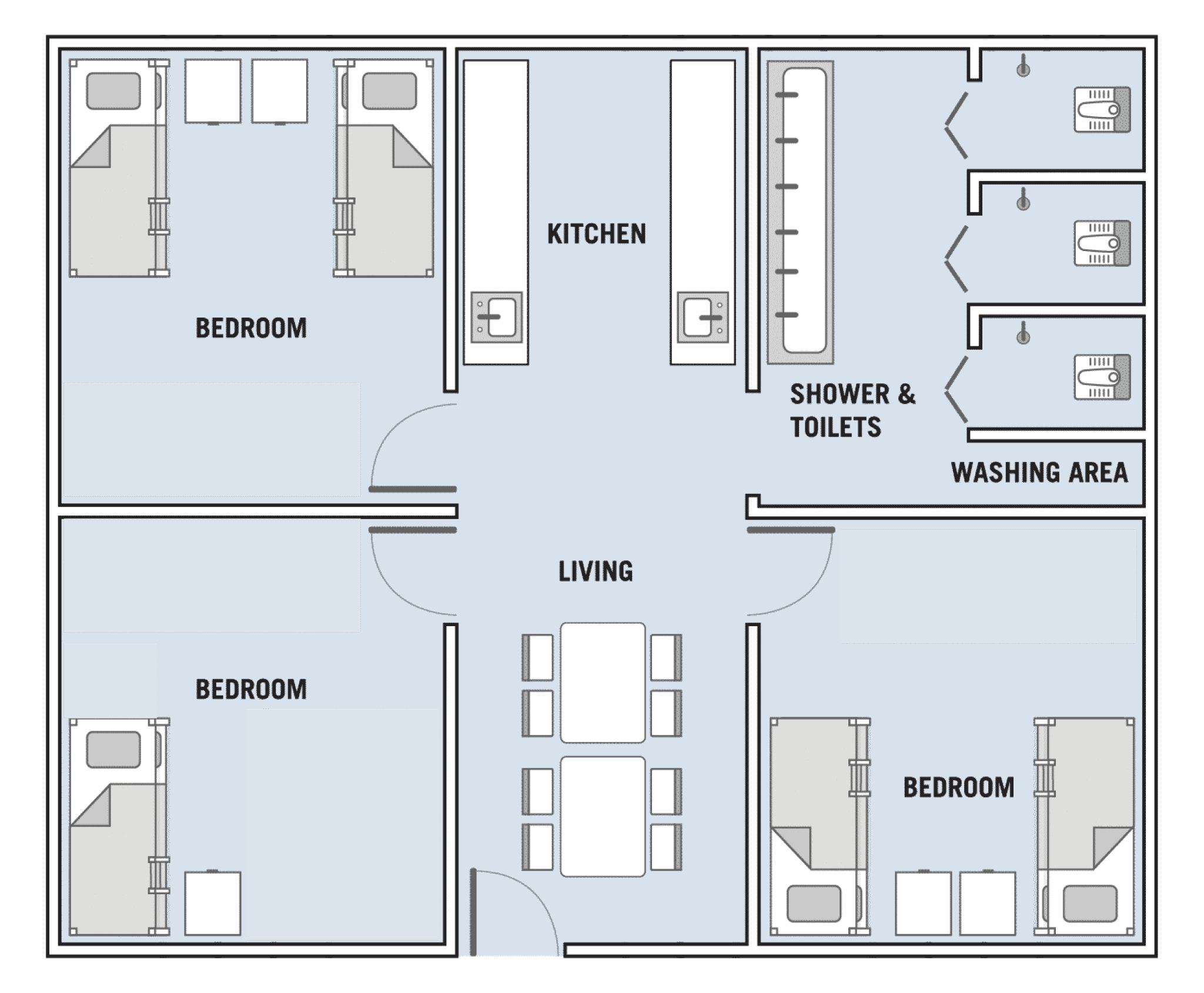 Floorplan of a typical apartment at Westlite Bukit Minyak
Westlite Bukit Minyak At A Glance
Westlite Bukit Minyak is strategically located on the mainland of Penang, close to the North-South Expressway exit at Plaza Tol Bukit Tambun and Jalan Perindustrian Bukit Minyak, a key highway leading into the Bukit Minyak Industrial Park. With easy access to Science Park, a new hi-tech industrial park as well as the new Batu Kawan Industrial Park, companies can enjoy cost savings as well as increased worker productivity with reduced traveling times.
Land Area:

17,900 sqm
Gross Floor Area:

39,602 sqm
Bed Capacity:

c. 3,321 beds


(As at 1 January 2022 after reconfiguration to new JTKSM requirements)
GET A QUOTE
Westlite Accommodation
Providing Employers & HR Agents with Housing Solutions
Purpose-built for Your Workers
Westlite Accommodation is a leading provider of purpose-built workers accommodation for foreign and domestic migrant workers.
Working Alongside HR Agents
Westlite Accommodation works with both HR agents & employers to meet your workers' housing needs.
Catering to Various Industries
Our purpose-built workers accommodations cater to foreign & domestic migrant workers from several industries across MNCs, SMEs and HR agents.
Rent Inclusions
Double Decker Bed
Ensuite Bathrooms & Toilets
Enhanced Security for Female Units
Gas Supply (optional)
Kitchen With Cooking Facilities
Living & Dining Area
Lockers
Power Points
View more
Canteen
Games Room
Handphone Shop
Indoor Gym
Prayer Room
Sheltered Recreation Area
Sick Bay
Sports Courts
Supermarket
View more
Time to expressway
4 minute drive to North-South Expressway

5 minute drive to Jalan Simpang Ampat

12 minute drive to Sultan Abdul Halim Muadzam Shah Bridge
Time to major industrial estates nearby
5 minute drive to Kawasan Perindustrian Bukit Minyak
Time to Airport
Food Centres
Pasar Malam Taman Merak (Night Market)
Tambun Star Food Court
Taman Tambun Jaya Food Court
Recreation Areas
Rozali Kolam Pancing Bukit Tambun (Fishing Pond)
Places of Interest
Mutthalamman Temple
Tien Tze Temple
Explore Westlite Accommodation in Malaysia
Westlite Accommodation is Asia's leading foreign and migrant workers dormitory owner and operator. Our mission is to bring happiness to our residents by providing a secure, warm and caring, comfortable and convenient living community, delivered with the best service quality to our customers and partners. Explore our dormitories in these other strategic locations.